Internships & Career Opportunities for Recent Graduates
We're selective about the kind of people we want to join our team, just as you should be about the kind of team you want to join. We're looking for the right individuals to join our team: forward thinkers who are able to look beyond textbook accounting rules and standards and creatively apply them to a client's unique business situation.
As an entry-level staff member, you won't be pigeonholed into choosing a specific accounting track; you will be assigned to work in a variety of industries and on a variety of tasks. You'll benefit from working with a wide range of individuals at different levels and will learn from their unique viewpoints and styles. You'll be part of a team, but you'll have the flexibility to explore options and make decisions on your focus areas as you grow with our firm, and you won't be required to travel extensively!
We offer clients the sophisticated capabilities and resources expected of a large firm, while maintaining a highly personal, hands-on approach. The truth is, working at a really big firm can make you feel pretty small. At VB&VV, new recruits have the opportunity to contribute to the process and offer solutions - right out of the gate. Perform well and you'll stand out and continue to get bigger assignments. You won't just feel like a valued member of a team, you'll be one.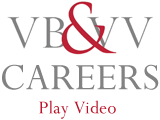 <![CDATA[

<![CDATA[

<![CDATA[